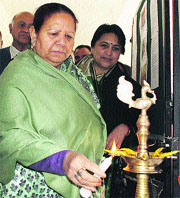 Governor Urmila Singh yesterday inaugurated a two-day Kangra painting exhibition jointly put up by the Kangra Art Promotion Society (KAPS) and the Department of Art, Language and Culture at the Club House Hotel in McLeodganj today.
The Governor praised the organisers and said efforts should be made to preserve and promote the unique Kangra School of painting. She congratulated all theimg alt="Governor Urmila Singh inaugurates the exhibition in McLeodganj.
Akshai Runchal, CEO, Kangra Art Promotion Society, said the Kangra School of Art was born in the mid-18th century AD in the Punjab hills (now Himachal Pradesh) with themes from the love poetry of Radha and Krishna by Jayadeva, Bihari and Keshavdas. The style was established by painters who came to the beautiful setting of Kangra to escape the turmoil of the end of the Mughal dynasty.
The Kangra Arts went in decline in the latter half of the 20th century with the decline of the "guru-shishya parampara". The last renowned master, Chandu Lal Raina, died in 1994. By the beginning of the 21st century, the gharana system had completely collapsed and the art form had nearly disappeared. Very few genuine disciples of old Kangra School (Gharana) survive. Most work in obscurity for a meagre living.
"KAPS was started in 2007 to revive and reinvigorate this precious heritage. Our objective is to preserve the Kangra School of Art and build a treasure of Kangra paintings for posterity," he said.
"One of the important achievements of KAPS is the Chitera School of Kangra Paintings that was started in 2007. It is temporarily housed at the Kangra Museum in Dharamsala. We have already graduated 14 students. Each student is given a monthly scholarship. The current cost per student is about Rs 30,000 per year," Runchal said.