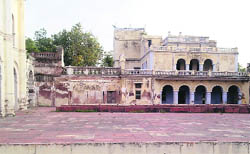 Sangrur: An amount of Rs 4.7 crore has been sanctioned by the Punjab Government for the repair work of three historic buildings, including Baraandari, Deewan Khana (bothin Banasar Bagh) and Shahi Samadhan (outside Nabha Gate), in Sangrur district.
Approval came after the district administration had sent a proposal to the government regarding giving a facelift to various historic structures lying in a state of neglect in Sangrur, the capital of the erstwhile state of Jhind, and other parts of the district. And once the renovation work is complete, the administration plans to bring these buildings on the state's tourist map.
According to information, the administration had forwarded a list of 52 buildings for clearance. While three structures have been accorded sanction, clearance for the others, including Clock Tower (near district courts), Ranbir Club, Ranbir College, Khalsa School and the palace at Bhadrukhan (where Maharaja Ranjeet Singh was born) is awaited.
Satinder Fatta, member of Banasar Bagh Committee, which would monitor the conservation work at the two historic buildings in Banasar Bagh, said the project would give a fresh lease of life to the structures lying neglected for decades. "Sangrur has the potential for heritage tourism, which needs to be highlighted.
I hope the district administration receives support from the government in its endeavour to revamp and showcase the historic buildings in the district," he added. Deputy Commissioner Kumar Rahul said they were hopeful that the government would clear the renovation projects for other buildings too.
Conserving Heritage
* Rs 4.7 cr has been sanctioned for the repair work of Deewan Khana, Baraandari (both in Banasar Bagh) and Shahi Samadhan (outside Nabha Gate)
* Sangrur administration had sent a proposal to the govt for renovating 52 buildings in the district
* Once the work is done, these buildings would be brought on Punjab's tourism map
* Other main buildings that await clearance are Clock Tower (near district courts), Ranbir Club and the palace at Bhadrukhan where Maharaja Ranjeet Singh was born

Related External Links