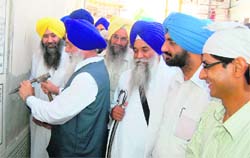 SGPC chief Avtar Singh inaugurates the conservation work of Darshani Deori in the Golden Temple complex in Amritsar on Wednesday.
The restoration work of Darshani Deodi of the Golden Temple was started by Jathedar, Akal Takht, Giani Gurbachan Singh and SGPC chief Avtar Singh here today.
The SGPC president on the occasion announced that all heritage buildings relating to Sikhism would be preserved through experts and Sikh Babas would not be allowed to carry out conservation works through kar sewa.
Earlier, the Babas of Kar Sewa Wale had put marble stones on one of the oldest structures of the holiest Sikh shrine. Deputy Commissioner Kahan Singh Pannuwas also present on the occasion.
Conservation expert Munish Pandit, Director, Sanrakshan, said the conservation of the building would be done in a traditional way and cement would not be used.
Talking to mediapersons, SGPC president said he was shocked to see that heritage buildings like Chamkaur Di Garhi were demolished to pave way for constructing modern buildings made of marble.
He said a Sikh, who did not want to identified, had promised to bear the entire cost of the renovation work of the Darshani Deodi. More than Rs 51 lakh would be spent on the work. Earlier too, an unidentified Sikh promised to bear the entire cost of the ongoing conservation of Baba Atal.