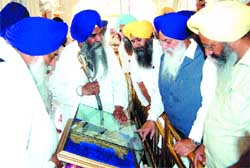 SGPC chief Avtar Singh takes a look at the Kalgi at Akal Takht in Amritsar.
Seems like Canada, Jathedar says its England.
Even as SGPC president Avtar Singh today announced that he would preserve the Kalgi, said to be worn by Guru Gobind Singh in the Golden Temple's Toshakhana, the research committee, which handed over the relic to Jathedar Akal Takht yesterday, failed to reveal the name of the person and the country from where it was brought.
However, after repeated queries, Jathedar Akal Takht, Giani Gurbachan Singh told The Tribune that the Kalgi was brought from England.
If this is true, then why did the kin of Giani Joginder Singh Vedanti, the then Jathedar Akal Takht, his personal assistant Prithipal Singh and Kamaljit Singh Boparai, one of the two members of the research committee, wanted to go to Canada in the year 2007?
Interestingly, kin of Jathedar Vedanti, including his wife, dominated the list of 12 persons who had been planning to go to Canada for 'preliminary preparations and to hold delegation with Sikh organisations' and officials of the government of Canada for bringing holy 'Kalgi' (sacred crest) of Guru Gobind Singh from Canada in 2007. This delegation which was proposed to be headed by Kamaljit Singh Boparai, include the names of Harbhajan Kaur, wife of Jathedar Vedanti, her personal assistant Amarjit Kaur, Prithipal Singh Sandhu (officer on special duty), Akal Takht (cousin of the Vedanti's wife) and Manjinder Singh (son of Prithipal Singh Sandhu).
It is a matter of record that Boparai had been fighting to bring "Kalgi" for the past 14 years, however the names of kin of Jathedar had raised eyebrows in Sikh circles, a couple of years ago. Boparai had approached the government of the United Kingdom through the United Nations and succeeded in locating the 'missing Kalgi' of the 10th Sikh Master.
The plume, or kalgi, which is believed to have been worn by Guru Gobind Singh, who is often referred to as Kalgidhar (wearer of the plume), was one of the items in Maharaja Ranjit Singh's possession. The kalgi was taken to England where it finally ended up at the Victoria and Albert Museum. These facts came to light when Kamaljit Singh Boparai, secretary of the International Shiromani Sant Khalsa Foundation, wrote to the Indian foreign secretary requesting that the kalgi of the 10th Guru be sent from the United Kingdom to India for display during the year-long tercentenary celebrations.
SGPC chief Avtar Singh has been making independent efforts to bring back the 'Kalgi' to India.
So much so that Baba Sangat Singh Khalsa Dal and the Shaheed Baba Sangat Singh Memorial Trust had also sought cross-checking of the authenticity of the 'Kalgi' (sacred crest) of Guru Gobind Singh, before sending a delegation to Canada or any other country.