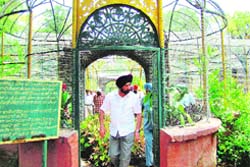 Patiala DC Jasbir Singh Bir, inspects the historic Fern house in Patiala.
While the historic Fern House, set up by the then Maharaja of Patiala Rajinder Singh in 1876 and boasting of 40 rare species of fern and other shade-loving plants, has apparently fallen no bad days for absence of proper care, Patiala DC Jasbir Singh Bir has directed the Punjab Horticulture Department to restore the glory of the tiny garden.
Meanwhile, Bir has also asked the department authorities to restore the sheen of the historic Baradari gardens by equipping the place with computerised irrigation system and ensuring its regular maintenance. In his effort to wean the kids of from computer-aided games and cartoons and to make them appreciate the nature, Bir has also directed the authorities concerned to arrange holding of special games and yoga classes in the Baradari gardens.
The unique fern house was a centre of attraction for tourists in yesteryears as it not only housed a large collection of ferns from different parts of the world, but also had 46 small and large pillars, 54 fountains and 32 ornamental hedges. But now the place was in a sad state as a large number of fern species had got vanished in course of time due to lack of care and t of the fountains and mist-creating sprinklers were lying out of order. The work on the fern house was so exhaustive and enormous that it had started in 1876 and was completed and subsequently opened for public in the year 1900.
Moved at the indifference of the authorities towards the place, Bir, who inspected the fern house directed the director of the horticulture, Punjab, Baldev Singh and others officials present on the occasion that immediate action should be taken to restore the historic Fern House to its former glory. Bir said the coming generations would never forgive us if we continued to ignore the upkeep of our historical places.
"The Baradari gardens also need a computerised irrigation system for rare plants and trees in the gardens, and special arrangements were needed for cleanliness of the gardens," said Bir.