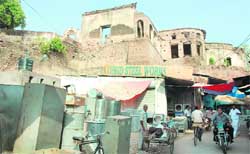 The entrance to Patiala's Quila Mubarak speaks volumes about the neglect of the monument.
If decay has set on to devour the historic Quila Mubarak of Patiala, unscrupulous people have started encroaching upon the priceless land of this historic monument – which served as an official residence of "Maharajas" of erstwhile Patiala state up to middle of the 19th century – in absence of adoption of any corrective measure by the Punjab government.
The construction of the fort had started in 1763-64 under the guidance of Baba Ala Singh — the ancestor of "Maharajas" of erstwhile Patiala state who, had also founded the beautiful city of Patiala, which, offered better scope for expansions to Baba Ala Singh and descendents in comparison to his earlier capital — Barnala. The construction job was so enormous that it continued for next five generations. The 10-acre vast fort was still enchanting the visitors from across the globe and it has Prince Charles as one of its lakhs of admirers.
The building was falling a prey to a combination of a high degree of decay and encroachments as well but, its condition has failed to attract the attention of the powers that be. Elegant buildings situated within the fort, which, still boasted about its modern genre of architecture and facilities like an underground sewage and a cool basement, were crumbling. While a number of roofs of the fort have already caved in, numerous others were about to fall at any point of time in case timely care was not provided. Nothing worthwhile was done in the name of restoration of murals, though, a heavy amount was learnt to have been spent on the job through an "eminent restorer" and "heritage lover" by the Punjab government.
What was endangering the very existence of this historical fort was alleged encroachment of the land of the fort.
When contacted, DC Jasbir Singh Bir, assured that he would investigate the matter and the guilty would be brought to the book. "Historical buildings need proper care and preservation and I will try to ensure this," said Bir.