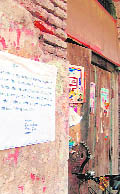 At least 150 shops opposite Golden Temple will be demolished by the end of this month to complete the last phase of the Galliara Yojna.
The brainchild of the Central government, the Golden Temple Beautification Plan, also known as the Galliara scheme, was announced with much fanfare in June, 1988, after Operation Black Thunder. Its objective is to remove all narrow lanes and bazars, which proved a hindrance for the security forces during Operation Bluestar.
Earlier, the administration had demolished a number of bazars as old as Gurus' period or Maharaja Ranjit Singh's time after Operation Bluestar and Operation Black Thunder. These bazars included Bazaar Maniaran, Pappranwala Bazar, Kapda Bazar adjoining Baba Atal, a portion of Atta Mandi, Mochi Bazar and the major portion of Mai Sewan Bazar.
Meanwhile, on behalf of the Director of the project, notices have been pasted on the shops to asking the owners to vacate them by tomorrow. The notices read that the shops, already acquired under the project, would be demolished by tomorrow. However, on a request of the shopkeepers, Deputy Commissioner Kahan Singh Pannu extended the deadline up to June 30.
The three phases of the project were completed during the Congress regime at a cost of Rs 75 crore. Earlier, many historical buildings, including Ghanta Ghar and its adjoining market, were demolished by the Improvement Trust. Town Hall School building, the first educational institute established by the British in the holy city, had been demolished to create a multi-storey parking lot.
In the original notification, it was proposed to demolish 500 buildings. This was later amended to 492, and out of these, 483 buildings were demolished in 1988. As many as 859 families were uprooted and 500 houses and 1,150 shops were demolished. The shopkeepers were rehabilitated in various markets like Pink Plaza, Shaheed Bhagat Singh Market, IDH Market and Green Plaza.
The fifth phase, which envisages underground parking for 200 cars, ground parking for buses, was delayed due to objections raised in certain quarters.