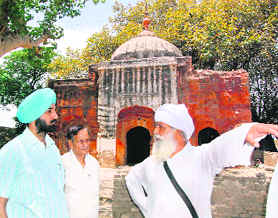 Amritsar DC Kahan Singh Pannu (left) talks to an elderly villager in front of the que at Pul Kanjri village.
The district administration will restore the que in this village situated near border with Pakistan. The que and other shrines were damaged in the frenzy during the partition of the country in 1947.
Deputy Commissioner Kahan Singh Pannu said though no Muslim family lived at Pul Kanjri, damaged structures and shrines of the village associated with Maharaja Ranjit Singh would be restored, so that future generations could be in touch with their culture and heritage.
The restoration work of Pul Kanjri, situated a few hundred metres from the border with Pakistan, was being undertaken by the Indian Tourism Development Corporation (ITDC) spending Rs 70 lakh. Former Chief Minister Amarinder Singh had declared Pul Kanjri a heritage site and decided to develop it as tourism destination a few years ago.
Pannu said steps would also be taken to restore the "Baradari", built by Maharaja Ranjit Singh, who used to stay there for the night while travelling from Amritsar to Lahore. The restoration of the temple would be completed in three months, he added.
The DC said the district administration wanted to hand over the heritage site to the panchayat committee of the village or to the Border Security Force for maintenance.