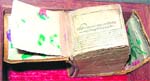 The smallest Guru Granth Sahib Bir which will be on display at the Guru Granth Sahib Resource Centre in Bhai Vir Singh Sahitya Sadan in New Delhi.
The newly set up Guru Granth Sahib Resource Centre in Bhai Vir Singh Sahitya Sadan in the Capital is holding a unique exhibition of some rare Guru Granth Sahib Birs in the world. On display will be the world's smallest printed Guru Granth Sahib Bir as also the world's largest handwritten holy book of the Sikhs.
Director of the Guru Granth Sahib Resource Centre Mohinder Singh says the smallest printed Bir is 2.5 cm in length, 2 cm in breadth and 3 cm in height and the biggest Bir, popularly known as Chandani Bir, has been brought from Afghanistan by Sikh refugees.
"The Sadan has set up world's first digital library on Sikh religion and will now make available online more than 200 digitised rare Guru Granth Sahib Birs, including some rare Birs with Nishans of the Gurus. Also on display will be reproductions of folios from the Kartarpuri Bir, which was compiled by Guru Arjan Dev and installed in the Golden Temple in 1604. This Bir is preserved in original with the Sodhi family of Kartarpur near Jalandhar and has Nishans of Guru Arjan Dev as mark of authentication. Among other rare objects will be the copy of first camera photo of the Golden Temple by William Baker, taken around 1864-66," says Singh.
The exhibition is the result of a collective initiative taken by the National Institute of Panjab Studies, a sister institution of the Sadan, which took up the Herculean task of locating, cataloguing and digitising the Birs in connection with the quadri-centenary of installation of Guru Granth Sahib in 2004.
During the fieldwork, a team from the institute was able to digitise rare Birs with different Takhts in India, universities in Punjab and private collectors. Images of Birs from India, Bangladesh, Pakistan, the UK and the US were taken by the team.
People can view these rare Birs at the Sadan from June 10 onwards. The exhibition, the first of its kind, will be inaugurated by Union Minister for Information and Broadcasting Ambika Soni in the presence of Prime Minister Manmohan Singh's wife Gursharan Kaur and other dignitaries, says Singh.