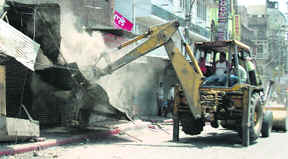 IRON HAND: Encroachments being removed by the Municipal Corporation near the Golden Temple in Amritsar.
The civic authorities today removed encroachments on both sides of the road leading to the Golden Temple from fountain chowk to Shani Temple here today.
The authorities were accompanied by a large posse of police to deal with any resistance from the pathway encroachers who had set up small shops and kiosks on the footpath. The authorities also brought down temporary and permanent sheds constructed by shopkeepers.
DPS Kharbanda, Commissioner, Municipal Corporation, said the step was taken to widen the roads leading to the holy shrine. Dilmegh Singh, secretary, SGPC, while lauding the step taken by civic authorities, said the encroachments were causing great hardships to devotees in particular and public in general.
Meanwhile, the Congress condemned the demolition drive, saying that the owners should have been given enough time to remove their valuables. Congress MLA OP Soni said the government should compensate them for loss of their valuables and rehabilitate them at a suitable site.
Kahan Singh Pannu, Deputy Commissioner, said the shopkeepers at Chowk Ghanta Ghar Market had been told to remove their items from shops till June 30.