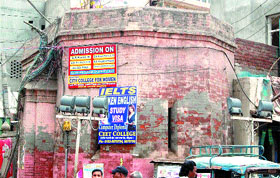 Latest 'victim' is Sultanwind Gate
Even as the Deputy Commissioner has issued show cause notices to various corporate houses, private companies and cinema owners for defacing government and private properties, the violators seemed to be least bothered to follow norms and even the heritage structures and buildings are not spared.
The glaring example and latest "victim" is Sultanwind Gate where certain hoardings have been hanged, which has even hidden the name inscribed on the gate. The hoarding has been put up in such a way that they hide the decorative lights installed to illuminate the gate in the evening.
The pillars of some of various 12 historic gates built by Maharaja Ranjit Singh could be seen smeared with posters becoming virtual eyesores. Various NGOs lodged their protest with the local authorities time to time demanding strict action against the defaulters as per the law.
The Deputy Commissioner said the administration would not lag behind in taking stern action against the persons found defacing the holy city. He said the campaign had just started, due to which various private companies had started removing the posters.