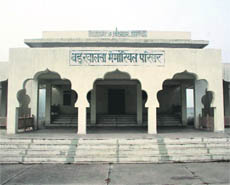 The Guru Teg Bahadur Memorial Museum, near Rai, in Sonepat.
The Guru Teg Bahadur Memorial Museum at Bud Khalsa, near Rai, is a victim of neglect, as much of the accommodation has not been utilised and the building, adjacent to the National Highway 1, remains closed t of the time with hardly anyone visiting it.
The museum was set up by the Haryana government at a cost of Rs 44 lakh six years ago. It has the collections of paintings depicting events that took place during the lives of all 10 Sikh Gurus and during the rule of Misls and Maharaja Ranjit Singh.
The museum is hardly visited by people and it remains locked t of the time. It is opened by a security guard only on request. The museum requires the attention of the Sikh bodies who should upgrade it as an informative and inspiring place for the visitors. t of the building comprising three big halls is still lying unused.