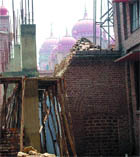 A view of the demolished portion of the Chemistry Department of the historical Khalsa College in Amritsar.
The heritage lovers of the city were in for a shock when a portion of the Chemistry Department of the historical Khalsa College building was demolished by the college authorities for constructing a computer block.
Balvinder Singh, conservative professional and Professor, Guru Ramdass Institute of Planning, Guru Nanak Dev University, talking to The Tribune here today said he was shocked to see the vandalising of one of the t beautiful and historic marvels when he had gone to cast his vote yesterday at a polling booth set up in the college.
However, when contacted, Dr Daljit Singh, Principal of the college, said the demolished portion was the storeroom for keeping the gas plant meant for chemistry lab. He said they had shifted to LPG keeping in view the safety of the historical building.
He said the part which was demolished was a hindrance in the construction of the new computer block, to be set up at a cost of Rs 1 crore. He said they were taking every precaution not to change the original structure of the magnificent building.
Prof Balvinder said as per the Venice Charter of 1964, it had been resolved that not only the buildings, but also their surroundings be maintained to give traditional look of the college.
He said before that the Ethans Charter of 1931 was introduced for the preservation of the historical buildings but had to be changed in order to check the changing of the structures of the main historical buildings.
He said the reason stated by the Principal was illogical. "If we keep on demolishing the portions attached with the original structure because it is creating hindrance in the construction of new blocks or has become redundant would defeat the heritage value of the architectural marvel constructed by Ram Singh, the legendary architect," he explained.