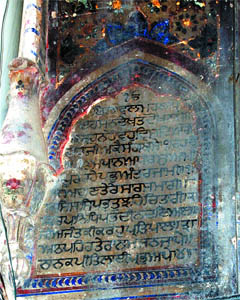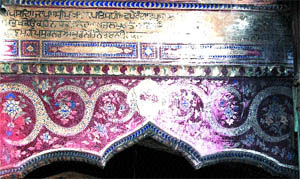 The historic gate and the priceless frescos of Darshani Deori in dilapidated condition in Amritsar.
Darshani Deori, an old and historic site in the vicinity of the Golden Temple, is waiting for immediate renovation and upgradation by the Shromani Gurdwara Prabandhak Committee. This is the historic gate which Sikh Gurus, including Guru Ram Das, Guru Arjan Dev and Guru Hargobind, used while visiting Harmandar Sahib.
The board, put up on behalf of the manager, Darbar Sahib, reads, "The Sikh Gurus used to bow their heads from this historic gate before entering Harmandar Sahib."
There was no construction between Guru Ke Mehal and the Golden Temple during the Guru period.
However, with the passage of time, Darshani Deori was surrounded by a number of residential and commercial buildings. Mai Sewa Bazaar where Darshani Deori is situated, has come up as a hub of commercial activities due to the mushrooming of shops, especially after the partition of the country.
Darshani Deori is decorated with frescos, meenakari and holy shabads written on the main arch which need immediate renovation by experts. Even though the SGPC looks after it, it is slowly losing its sheen.
The board installed near the historic gate mentions the brief history of the historic site.
Initially, Darshani Deori was surrounded by historic sites, including Guru Ke Mehal and Tobha Bhai Salo. A gurdwara is also situated on the roof of Darshani Deori from where devotees can have a glimpse of the Golden Temple.