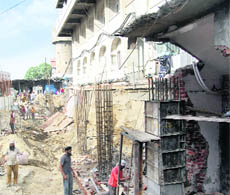 A view of the site where the roof of a building collapsed at Gurdwara Ramsar in Amritsar.
Two volunteers, hailing from border village Dhanoa Kalan, were buried alive while two youths sustained injuries when a roof (under construction) in Gurdwara Ramsar complex caved in due to the alleged negligence by Babas of kar sewa here today. Cracks also developed in the main building of the Sikh shrine after the incident.
Talking to The Tribune, SGPC president said inquiry had been entrusted to Dilmegh Singh, secretary, SGPC. He said the kar sewa was allotted to Baba Labh Singh through an SGPC resolution. This is for the first time that such a tragic incident has occurred during kar sewa of a Sikh shrine.
The deceased have been identified as Sahib Singh and Happy, while injured Satnam Singh and Harjit Singh were rushed to nearby SGPC-run Guru Ram Dass Hospital.
The SGPC deputed a task force to cardon off the area with a view to stop press photographers from clicking pictures of the site. They also roughed up some lensmen.
Sources said negligence led to the mishap because those supervising the construction were not qualified for the job. Kar sewa was underway to expand the Golden Printing Press in the premises of Gurdwara Ramsar where Guru Granth Sahib was compiled in 1604. The SGPC has earmarked huge funds for the expansion and upgradation of the printing press with the installation of ultra-modern machinery.
The expansion of the printing press was necessitated following the edict pronounced by Akal Takht that banned the printing of Guru Granth Sahib by private publishers. The SGPC was authorised to print volumes of Guru Granth Sahib. In view of the great demand of Sikh literature, especially Guru Granth Sahib, the SGPC allotted the kar sewa to expand the printing press.