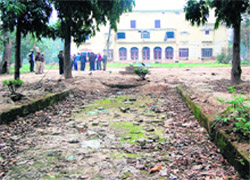 A view of the fountains dug up opposite the summer palace of Maharaja Ranjit Singh in the Ram Bagh complex in Amritsar on Sunday.
Delay of the project to restore Ram Bagh, summer palace of Maharaja Ranjit Singh, has become an issue of public outcry. Morning walkers and aware citizens are critical of the Archaeological Society of India (ASI) for destroying the heritage in the name of restoring it.
A senior citizen, who is a regular visitor to the only green spot in the Civil Lines, said he had been watching the digging up of roads and pulling down of Baradari and other buildings, and had been raising his voice.
But the ASI had failed to respond. The old building, which represented the era of Maharaja Ranjit Singh, continued to be vandalised, he added.
The complex includes the summer palace of the Maharaja, fountains and Baradari gardens replicating the Shalimar Gardens of Lahore (Pakistan). The Ministry of Culture, government of India, has reportedly approved Rs 200 crore to make Amritsar the tourist hub by undertaking projects to restore monuments to original shapes, but due to lack of accountability, people doubt how this amount was being spent.
Echoing sentiments of people, BJP MP Navjot Singh Sidhu was dismayed over the tardiness of the restoration project and lamented that the ASI and consultants were not involving the public into this. He said those executing the multi-crore projects would have to face public scrutiny and audit to give account of the taxpayers' money.
He said conservationists and heritage experts from Guru Nanak Dev University were available to lend help in the works. Ram Bagh has been part of history and people are attached to it. It was a legacy of Maharaja Ranjit Singh. Sidhu said the government must furnish to people account and action plan of the restoration work for a final decision.
Consultant, restoration project, Gurmeet Rai admitted that the progress of the garden was tardy and added that in India there were very few conservation contractors with wherewithal. She said the government had sanctioned Rs 2.5 crore for redoing the garden and the contract was finalised only in October 2007. She said the roof work of the summer palace of the Maharaja had been completed, but some other projects also required to be completed. She said the new design based on historical background of the company bagh had been located which would be replicated on the basis of the Charbagh design. She assured that the contractors would be told up to speed up work.