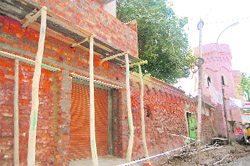 Historical buildings, especially of the Maharaja Ranjit Singh and British era, in Amritsar have witnessed destruction due to the apathy of the district administration.
A wall built during Maharaja Ranjit Singh's reign, along with 12 gates with Nanakshahi bricks for the city's defence, has been virtually destroyed. Earlier, the British demolished the wall on the western side facing Gobindgarh Fort.
Balvinder Singh, Reader, Guru Ram Das School of Planning, Guru Nanak Dev University, and conservator Binny Chatha said the wall had completely disappeared. Amritsar district Gazetteer,1893, says the British again reconstructed the wall from Lahori Gate to Rambagh Gate in 1866-68.
They said the failure of government agencies to implement the Act, The Punjab Regional, Town Planning and Development Act, 1995, which was amended for the incorporation of Listed Buildings and Heritage Zones led to the destruction of the heritage buildings.
Earlier, the wall along Lahori Gate had disappeared following renovation/ expansion of police station D-division and other private buildings.
Earlier, the British, not only renamed historical buildings, but also demolished many sites on the pretext of development. Now, the local administration is doing it.
Maharaja Ranjit Singh took a keen interest in the development and beautification of Amritsar. He followed the Mughal pattern and laid beautiful gardens and constructed beautiful buildings, including forts, t of these now on the brink of ruin. He had Sri Harmandar Sahib gold-plated. The Sikh school of art got much-needed patronage.
However, state governments, including the Badal government, that had promised "Maharaja Ranjit Singh's rule" and the SGPC failed to preserve art of the Maharaja's time. Amritsar looked like a fortified city in the days of the Maharaja.
The fortification consisted of rampart of earth and wide ditch, apart from 12 gates, to save the town from invaders. While t of the gates have been demolished, there is no trace of the ditch. t of the gates were pulled down. After the death of the Maharaja, many old buildings were replaced by "modern monuments" by the British.