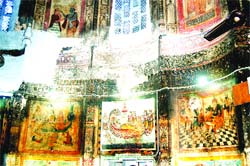 Decaying paintings at Veerbhan Da Shivala temple in Amritsar
A number of old temples containing beautiful frescos and wall paintings are fast disappearing thanks to indifferent approach of its caretakers and absence of government policy to preserve art.
The city is replete with temples containing frescos and wall paintings with subjects taken from Hindu mythology.
Located at Nawa Kot, Radha-Krishan temple has beautiful frescos painted on the upper portion inside the sanctum sanctorum. However, in an utter ignorance towards heritage, bottom portion of the walls have been covered with tiles. A glance over the beautiful paintings on the upper portion revealed that careless preservation has devoid the posterity of the heritage.
According to Ravi Kumar, owner of a shop running from the temple premises, the temple was about two-century old. He said regularly a priest came to conduct prayers. Private management of the temple had conducted its repair with its limited resources. The publicity material written on the outer wall of the structure is a big eyesore.
The Amritsar chapter of the Indian National Trust for Art and Culture (INTACH) had already documented about 300 buildings in the walled city, t of which are facing "slow death" due to indifferent attitude of the authorities.
Experts do not hold back their apprehensions that many of these buildings would disappear if the state government failed to amend the law to preserve heritage sites.
Nobody cared to preserve frescoes of Teja Singh Thakur Dwara built by a distant relative of Maharaja Ranjit Singh. Located in the narrow lanes of the city, the temple was dedicated to Rasha-Krishan. Sky scrapping top of sanctum sanctorum was a landmark and its construction was typical of medieval temple architecture.
Building of Veerbhan Da Shivala, dedicated to Lord Shiva, dates back to the period of Maharaja Ranjit Singh Singh. Its frescoes evoke devotion among people.
Experts are of the view that haphazard and unplanned development of the city over a period of time posed a serious threat to heritage. With migratory trends from rural areas to the city, the city is growing to the status of the t vibrant city and metropolitan centre. However, in the frenzy of competing with modern cities its planners forgot to secure its enormous wealth in the shape of heritage.
Rapidly changing city profile, misuse of built space, uncontrolled traffic and unauthorised building activities had damaged the very sanctity of the heritage areas.