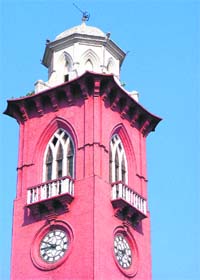 Round-the-clock neglect
History: Ludhiana's Clock Tower, popularly known as 'Ghanta Ghar', turned 102 last year. It was on October 18, 1906, that Victoria Memorial Clock Tower, Ludhiana, was inaugurated by the then Lt Governor of Punjab, Sir Montgomery.
Present Status: This emblem of Ludhiana is today being used as a public urinal and its walls, which are witnessing a few cracks, are being used for pasting pamphlets. The area around the monument is dotted by encroachments, which the Municipal Corporation has not been able to remove. Subash Singhal, chairman of the Clock Tower Welfare Association, said, "The number of encroachers has increased and the tower has become a haven for beggars. It's not only the Municipal Corporation, even the residents have no respect for the heritage building."
Vinod Sharda, assistant municipal commissioner, says, "We had installed focus lights about one-and-a-half year ago, and whitewashed the tower. I don't think there is anything more that needs to be done. The building is quite strong ."
The civic body had installed a few fountains to beautify the area, but these were never operational, and later their parts were stolen. Besides, Rs 6 lakh was spent to install 16 focus lights, of which four do not work. MC authorities say, "We will get them repaired soon."
Mohinder Aggarwal, general secretary of the Punjab Pradesh Beopar Mandal who has a showroom nearby, says, "I am pained to see the century-old monument in utter neglect. We all are equally responsible for it."
The clock often stops and it takes a few days to restart it. The tower was erected in the heart of the city, with Chaura Bazaar, courts and tehsil office in the vicinity, but today it is more popular for staging demonstrations. Old-timers recall that earlier the tower could be seen from a distance, but today high-rise buildings and pollution have enveloped it.