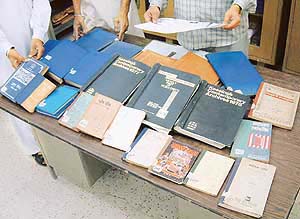 Some of the books that were returned to the Sikh Reference Library by the CBI.

The SGPC in a memorandum to Vice- President of India Dr Mohammad Hamid Ansari during his visit to the Golden Temple, here today, urged him to prevail upon the central government to return rare books and manuscripts ,taken by Army or the CBI during Operation Bluestar in June 1984.
The memorandum also has demand of turban issue in France and amendments to the Sikh Gurdwara Act 1925. e Chief Minister Parkash Singh Badal also accompanied Dr Ansari during his visit to the Golden Temple and Jallianwala Bagh.
The SGPC honoured Ansari with a "Siropa" (robe of honour). Tight security in and outside the Golden Temple received flak from the Sikh leaders. Shiromani Akali Dal (Amritsar) president Simranjit Singh Mann and Bhai Ranjit Singh, a former Jathedar Akal Takht criticised the SGPC and the Shiromani Akali Dal for heavy security to mark the visit of the Vice- President of India and the Chief Minister to the Golden Temple.
They said the four gates of he Golden Temple were open for everybody except security persons.
The memorandum says the library material, which was burnt and whisked away, could not pose any real danger to the security forces.
The memorandum urged Ansari to amend the Sikh Gurdwara Act-1925 to provide for co-option of 10 NRI members as in five decades many Sikhs migrated to all parts of the world. It also sought increasing of the term of th SGPC chief and other office- bearers from one year to two and a half years . The general house of the Shiromani Committee had unanimously approved it .
Earlier Dr Ansari, accompanied by wife Salma Ansari listened to verses of Guru Granth Sahib.
Penning his feelings in the visitors' book, Ansari remarked "It is my good fortune to have this opportunity to visit this holiest of holy shrine of great religion". midst tight security, the Vice- President reached the Golden Temple in the morning and went to pay obeisance in the sanctum sanctorum.