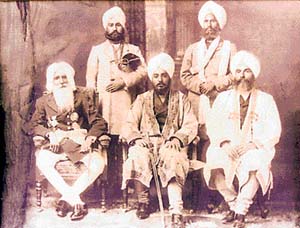 Sikh luminaries of Nabha come together: Sitting from left, Maharaja Hira Singh of Nabha, Tikka Ripudaman Singh and Bhai Kahn Singh A turban, three swords, a cloak, a comb with hair of Guru Gobind Singh and a hand-written piece of paper (manuscript) of the10 th Sikh Master are the relics erstwhile princely family of Nabha state has agreed to hand over to the Punjab government.
These relics at present in the union capital earlier were on display display in the Palace of Nabha before these were moved to Delhi.
Tarlochan Singh, MP, who belongs to Patiala, reportedly persuaded Raja Hanuwant Singh, son of last Maharaja of Nabha state Pratap Singh, to hand over the relics to the Punjab government.
Raja Hanuwant Singh filed an affidavit in the Punjab and Haryana High Court conveying the decision of the princely family to hand over the sacred relics to the Punjab government.
The court has directed the Punjab government to constitute a four-member committee to receive the relics from the Nabha family in two months and decide a place to display these relics.
Residents of Nabha had moved the Punjab and Haryana High Court seeking directions to the Nabha family to hand over the relics back to people of Nabha for displaying. The petitioners even offered to meet bear maintenance and upkeep cost of the relics saying these had become part and parcel of their life for they had been having "darshan" of the relics as religious routine.
Earlier, saysTarlochan Singh, "I had requested the Punjab chief secretary to persuade the Nabha family to hand over the relics to the state for proper upkeep, maintenance and display.
Now as the Nabha family has conceded the request of residents of Nabha and Tarlochan Singh, he wants these be first taken to Nabha for "public darshan" before a decision is taken on permanent exhibition or display centre for the relics.
Tarlochan Singh also wants the Punjab government to appeal to all families which may be in possession of some other relics of Sikh Gurus to hand over these to the state government by following the Nabha family.
See earlier story: Punjab to get Guru Gobind Singhs relics