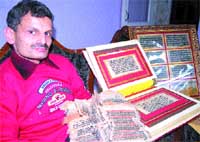 Rajnish Khosla shows the rare handwritten manuscripts.
People's spoken and written language is their t important cultural aspect. In India, over thousands of years, manuscripts have been written in a vast number of languages and each in itself symbolises the history of the country.
Thousands of significant manuscripts lie neglected, forgotten, sometimes just taken for granted, in institutions and homes around the country, in urgent need of conservation.
However, city resident Rajnish Khosla has taken upon his shoulders the mammoth task of conserving this tremendous pool of knowledge which is under a tremendous threat due to the constant disappearance of manuscripts at an alarming rate.
Abundance of such handwritten manuscripts in Sanskrit and Persian, a majority of them being about 350 to 400 years old, find a new life at his residence.
Khosla inherited these manuscripts from his forefathers who used to collect these manuscripts after travelling all over the country. Recently he approached the National Mission for Manuscripts (NMM), launched by the department of culture, ministry of tourism and culture, government of India, to save this t valuable of our cultural inheritances, for digitisation of this treasure trove.
The NMM appreciated the work of Khosla for the preservation of these manuscripts. He claimed that D.K. Rana, deputy director of the mission, evinced a keen interest to help him after seeing his work. Talking to The Tribune, Khosla said the manuscripts were made of natural materials such as birch, palm leaf, handmade paper and cloth that require specialised care and conservation. He said that even the ink and colour used in writing these manuscripts were natural.
Rajnish Khosla had been conserving these manuscripts as per the guidelines of the Archaeological Survey of India (ASI), New Delhi, and had offered them to various religious institutions of the country. Recently, he donated a manuscript of Hanuman Natak written in Gurmukhi language, which was probably translated during the era of Maharaja Ranjit Singh to Nanded Sahib.
Earlier, he had offered one handwritten book "Sharah Hikmatul Ain", written in 1270 Hijri (a Mohammedan calendar), to Dargah Khwaja Moinuddin Chisti, Ajmer. The book is being kept in the library of the dargah for public viewing. He had also donated a manuscript of the Bhagavad Gita to the Tirumala Tirupati Devasthanams (TTD).
Viswanadham Garu, museum officer of the Devasthanams, in his letter to Khosla, said, "The Bhagavad Gita will be displayed at the TTD Museum."
Khosla single-handedly bore all the expenses (amounting to several lakhs) on preserving the manuscripts by cut-mounted vaccum technique to bind the books. Later, he framed the fragile pages in glass covers.
He has donated pages of "Markanday Puran" to the Chintpurni, Jawalaji and Chamunda Devi shrines. He has in his possession a Persian manuscript "Tibbe Akbari" written in 1190 Hijri by Mohammed Alzani during the reign of Aurangzeb. Each page of the book is encircled with gold. He said he had contacted the Shri Mata Vaishnodevi Shrine Board for offering religious manuscripts for display so that every devotee could have access to rare and sacred documents.