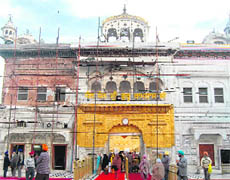 Finally, the Shiromani Gurdwara Parbandhak Committee (SGPC) has agreed to get the renovation of Darshani Deori, which leads to sanctum sanctorum of the Golden Temple, done by experts with the support of the district administration.
Earlier, the SGPC had stopped the renovation of the deori being done through kar seva when The Tribune highlighted the use of gaudy colours, crude workmanship and sub-standard material in March last year.
Talking to The Tribune, Deputy Commissioner KS Pannu said more than Rs 56 lakh would be spent on the conservation of the deori as per the tradition.
The experts have recommended that the cement plaster on the deori be removed with wooden hammer. The restoration work would include waterproofing of the terrace. Wooden boarding, wooden panels in niches above the entrance to a private TV channel office would be removed.
Conservation of wall paintings on the cornice and bracket area of the deori by cleaning of painted surface has been recommended.
A team comprising Maninder Gill, Ajaydeep Jamwal and Tushar Chakarvarty has been entrusted with the restoration of Baba Atal and other heritage buildings. Meanwhile, in another major decision, the priceless frescoes that adorn the inner walls of the gurdwara would be recreated in its original designs and pattern. The entire cost of the project is estimated at Rs 1.20 crore and would be met through donations and contributions from other sources.