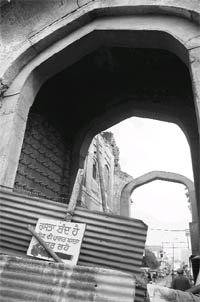 Decides to pull down the historical gate.
A view of damaged historical Sunami Gate in Patiala.
The historical Sunami Gate is now in a state of ruins and has become a traffic bottleneck. Thanks to the apathy of the civic administration that the historical gate caved in about eight months ago following incessant rains is in a dilapidated state. The administration has thus decided to pull down the gate but the implementation of the project is still hanging fire.
The administration has so far done what it found to be the easiest- close the road to traffic unmindful of the hardships that it has caused to the residents of the area and also to the owners of business establishments.
Portions of the Sunami Gate had crumbled some years ago but it remained in tact following minor repairs. However, this time huge portions of the roof of the gate came crashing during rains and the municipal authorities decided that the gate would be pulled down. There were protests against the decision from historians and residents.
However, the municipal corporation had the final word and decided to pull down the gate.
The gate has been there for eight months now and the traffic on the Bahera Road has been closed.
From the Modi College, the vehicles have to take longer routes to reach Anardana Chowk. Similarly, the traffic from the Bahera Road has to go from the Amar Ashram to the Lower Mall.
It is pertinent to mention that the Sheranwala Gate, which was pulled down some years ago, has been built afresh along the mall.
It has enough width and traffic flow has been smooth even though it is one of the busiest roads in the city.
Gurbux Singh, a resident of the Sunami Gate area, said while huge funds for development works were being sanctioned during the Sangat Darshan programmes, the project of widening of the Sunami Gate Road had remained on back burner for such a long time.