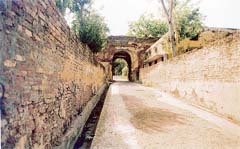 In the last quarter of the 15th century, when Delhi was ruled by the Lodhi Dynasty, Sultan Sikander Lodhi built what is today known as the Lodhi Fort. The structure eventually gave the city its present name.
The fort was built in what was then known as Mir Hot village. Today, it is in a totally dilapidated condition, presenting a clear case of gross neglect, both by the general public as well as the authorities.
However, the meandering pathway leading to the main gate of the fort (which has alt disappeared now) still holds the remnants intact and is sufficient to capture the imagination of any visitor and tell the story of Ludhiana.
The site of the forgotten monument only houses what can be termed as the mere skeleton, and one wonders how the fort stood tall in its heyday. It is estimated that the present site of the fort is only one third of the total area of the original fort.
Although covered by wild growth, which has spread over the entire site now, there are still some signs and marks that can at once take one back to the era it actually belonged. It is not difficult to imagine how the crumbling boundary wall, which has been eaten up by the dwellers on all sides, stood guard against the invasions.
But sadly, there is not even a single sign board at the fort today, let alone its historic facts. As legend has it, Sikander Lodhi, after adhering to the requests of the native people for providing protection against looting by Baloch raiders, built the fort. He asked his two chiefs, Yusuf Khan and Nihang Khan, to be based at the village Mir Hota, given the key location of the site.
As Yusuf Khan later crossed over to the other side of Sutlej river to fight the Khokhars, who were plundering the Jalandhar Doab, Nihang Khan stayed back and founded the town.
The importance of this historic citadel in the centuries that ensued is evident from the fact that Maharaja Ranjit Singh later built a tunnel connecting the fort with his palace in Phillaur across the Sutlej river, which flowed from near the fort during that era.
But sadly, the fort attracts no visitors today. It is located in the old city area and is surrounded by Killa Mohalla on all sides. Worse still is the fact that many a youngster in the city have not even heard of the fort.
The fact, however, remains that even though the structure is lying in a shambles today, Lodhi Fort will always hold importance in the history of Ludhiana.