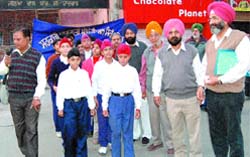 Students participate in a heritage walk organised by INTACH in Amritsar on Friday.
To sensitise the people and the administration about the rich cultural and architectural heritage of this ancient city, INTACH today organised a "heritage walk" which started from Jallianwala Bagh.
State convener of INTACH Dr Sukhdev Singh said the walk was projected as an exercise to present the old city to its own people so that they felt proud of it.
The walk is proposed to generate the interest of the residents of the old city and the visitors towards the history of architecture and evolution of the city of Amritsar.
The heritage walk was organised in two phases, each comprising students, teachers and citizens of Amritsar. The first group of 50-plus members, led by Dr Sukhdev Singh, Harkamaljit Singh and Dr P.S. Sharma, P.S. Mahoora and Gopal Johary, members of INTACH Amritsar chapter, walked through the city covering Jallianwala Bagh, Ahluwalia fort, Town Hall, Guru Bazaar, Gurdwara Tahli Sahib, Guru Ke Mahal, Temple Thakurdwara, Mint of Maharaja Ranjit Singh, Baba Bohar, Sangal Wala Akhara, Chitta Akhara, Akhara Bala Nand and other buildings, lanes and sites of architectural and socio-historical significance.
The walk was conducted by Amrit Lal Mannan, in charge, INTACH heritage school clubs, Amritsar chapter.
The second batch of 80 students, members of the Nehru Yuvak Kendra, and citizens, led by T.S. Raja, director, youth services, and Mohan Singh, president, Vikas Manch, went through the narrow lanes of Amritsar.
Harkamaljit Singh said INTACH designed the walk and produced a brochure after a thorough research by a team of architects, planners, historians and sociologists. Mahhora and town planner Gopal Johary appreciated the architectural features of various buildings.
The INTACH Amritsar chapter criticised the bad sanitation conditions in the old city. They demanded that the municipal corporation and other civic bodies must perform their duties and provide proper facilities to the people.