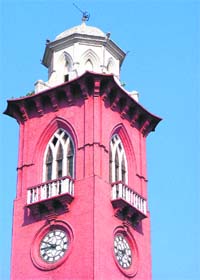 Ghanta Ghar clocks show a different time in Ludhiana.
Ghanta Ghar has become an identity for the city, but for the past few days, its clocks have been showing different time. It seems the MC is too busy to do something about it. One can see weed growing on crevices, which is contributing to cracks in the structure.
Constructed more than a century ago, the tower was inaugurated by Lt-Governor of Punjab and its dependencies, Sir Charles Montgomery. It was earlier known as Victoria Memorial Clock Tower.
When Giani Zail Singh was the Chief Minister of the state, he had rechristened Ghanta Ghar as Bhagwan Mahavir Clock Tower.
Being maintained by the MC, the tower has seen many ups and downs. Former commissioner Vikas Pratap had tried to maintain the structure.
M.K. Gupta, a businessman in his 70s, said he had been watching the clock since his childhood. "It was a centre of attraction before the construction of the flyover which joins the Jagraon bridge to the Jalandhar bypass," he said, adding that it was not for the first time that the watches were showing wrong timings.
Harpreet, a housewife, said before the coming up of the mall culture, Chaura Bazaar used to be the central place and Ghanta Ghar its landmark. "I remember my grandfather used to set his watch to the tower whenever he used to take me out to the market," she said.