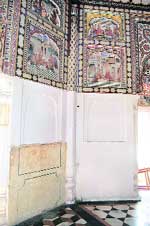 During previous kar sewa, wall paintings had been replaced with bathroom tiles
For the first time, the renovation work of priceless frescos of Baba Atal was started by world renowned heritage experts engaged jointly by the district administration and the Shiromani Gurdwara Prabandhak Committee (SGPC) here today.
However, the experts have been finding it difficult to restore the frescos which were vandalised during the previous kar sewa which replaced the priceless wall paintings of the Sikh School of Arts with bathroom tiles.
Visitors who come to Amritsar do not realise that some of the finest architectural marvels and Sikh religious places are being steadily defaced. Amritsar is replete with a number of historical, archaeological, religious and scenic places, which have not been given their due attention.
Deputy commissioner Kahan Singh Pannu, who took the personal initiative to convince the SGPC that the restoration of the frescos should be done by experts instead of traditional kar sewa, told The Tribune that the heritage experts had a vast experience of carrying out restoration/renovation work of national monuments, including the Red Fort etc. SGPC chief Avtar Singh held a meeting with heritage experts and the deputy commissioner to work out the details of the restoration work.
Earlier, the kar sewa carried out to repair the age-old murals at Gurdwara Baba Atal and repair work of the historical Ramgarhia Bungas had earned flak from heritage lovers. Shockingly, during the previous kar sewa carried out in 1992, bathroom tiles had replaced the frescos on the walls of the ground floor.
Interior walls of the first floor were adorned with murals depicting Sikh history. Less than 100 panels of murals had been left on the first floor of Gurdwara Baba Atal, while the rest of them have been obliterated beyond recognition.