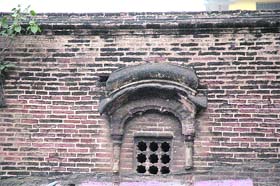 Historical Bunga which was demolished by the Management of Takht Hazur Sahib at Nanded.
Historical buildings in Nanded stand mute testimony to the reckless destruction of heritage in this ancient town which is one of the five Takhts of the Sikhs. The state government of Maharashtra and the Management of the Takht Hazur Sahib have failed to show devotion for the priceless heritage during the development process.
The ancient town, declared holy city by the government of Maharashtra, is an important place of pilgrimage for the Sikh community due to its association with Guru Gobind Singh, who had spent the last few weeks of his life here, and Baba Banda Bahadur, who is known to have meditated on the banks of the Godavari.
The devotees, who had visited Takht Hazur Sahib before the taking over of the management by Maharashtra's former DGP P.S. Pasricha, are shocked to see that the 175-year-old historical Wassan Singh Bunga of Maharaja Ranjit Singh's time in the Takht premises stands bulldozed. Congress Working Committee member Iqbal Singh said it was shocking that the heritage sites of Maharaja Ranjit Singh's time had been demolished though the Takht Management had agreed in principle to preserve the old buildings during his last visit to Nanded.
A reader in the Department of Guru Ram Das Planning, Guru Nanak Dev University, Balvinder Singh, who was an eyewitness to the demolition of the "bunga", while talking to The Tribune said he tried his best to save the "bunga" by convincing the representatives of the Maharashtra government posted at Hazur Sahib, but there was nobody to listen to him.
The name of the old building is Wassan Singh Da Bunga, which was reportedly built along with other buildings in 1832 on the directions of great Sikh ruler Maharaja Ranjit Singh, who had specially sent masons and architects from Punjab to construct the buildings. However, they came back after the death of the Maharaja in 1839.
The development plans for making 22-km-long corridor linking all Sikh shrines in Nanded, also displaced a number of families who had been living in the vicinity of Takht Hazur Sahib for the past many generations. The displaced persons alleged that though they were rehabilitated in the newly constructed Abchalnagar Colony, they had not been given allotment letters so far.
On the other hand, the state of Maharashtra and the Takht Management Committee claimed that the city of Nanded was now poised for a quantum jump with an investment of more than Rs 1,000 crore. More funds would be pumped in the coming years. Investment & Protocol commissioner, Maharashtra, Amitabh Rajan himself admitted that the families displaced from the gurdwara precincts had been living there for centuries. He said there were 2,900 properties to be partly acquired/demolished out of that the gurdwara precincts.