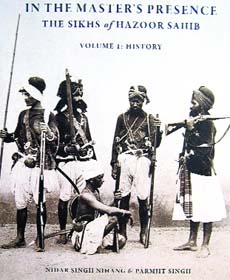 In the Master's Presence: The Sikhs of Hazoor Sahib.
In a comprehensive research, involving rare pictures and documents, UK-based Sikh scholars Nidar Singh Nihang and Paramjit Singh have explored the history of the Deccani Sikhs of Hazur Sahib.
The research work, "In the Master's Presence: The Sikhs of Hazoor Sahib", was released during the tercentenary celebrations of Gurta Gaddi Diwas of Guru Granth Sahib at Hazur Sahib.
This two-volume work also explores the history and traditions of Hazur Sahib, the fourth Sikh Takht.
The first volume traces the Hazur Sahib's development, from the foundation of the very first modest structure built over the ashes of Guru Gobind Singh in 1708 to the "insensitive destruction" of its unique built heritage in the name of modernisation and beautification three centuries later.
The authors have drawn upon a wealth of written materials and oral tradition to evoke a vivid and often startling account of the empires, events and characters with maharajas, warriors, emperors, nizams, politicians and policemen, which are intertwined with the fortunes of the last resting place of the 10th Sikh Guru.
Nidar is the ninth gurdev (teacher) of the Baba Darbara Singh Shastar Vidya Akhara, which had been founded in the 17th century to teach Sikh warriors battlefield arts. He has lectured across the world on the Sikh martial tradition and has contributed to several television documentaries, radio programmes and publications on the subject. His co-author, Paramjit, is an independent researcher specialising in the photographic history of 19th century Punjab.
They made several trips to Hazur Sahib during 1999-2007 to have interactions with the Deccani Sikhs to collect first-hand information about their history.
They have tapped into the rich and exotic reservoirs of visual heritage to bring to life the unfamiliar world of Hazur Sahib in over 150 illustrations of paintings, photographs, portraits, maps, artefacts and documents from several public and private archives. Among these are examples of the sumptuous murals that have decorated the inner walls and ceilings of Hazur Sahib since 1830.
However, the authors rued that several exquisite and vibrant examples of Sikh fresco art, that once adorned the walls of some major shrines in Punjab and had been reproduced in this book, had been destroyed or painted over in recent times.