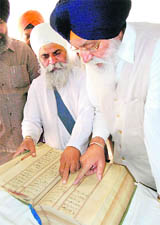 SGPC president Avtar Singh has a look at a rare hand-written manuscript preserved at the historic Aurangabad gurdwara.
The historic gurdwara, which had been built here in the memory of Bhai Daya Singh, one of the Panj Piaras, is a repository of rare Sikh manuscripts dating back more than 300 years. Some manuscripts have beautiful ornamental calligraphy and outlining in gold and blue.
One of the rare handwritten manuscripts is "Zafarnamah" (epistle of victory) written in Persian. It was sent by 10th Sikh master Guru Gobind Singh to Mughal emperor Aurangzeb in 1705. Its manuscript seems to be written by a Muslim devotee, who has also written the date of its writing on it.
In the "Zafarnamah", Guru Gobind Singh reminds Aurangzeb how he and his henchmen had broken their oaths sworn upon the Koran. SGPC president Avtar Singh, who visited Aurangabad to attend a function to commemorate the tercentenary of Gurta Gaddi Diwas of Guru Granth Sahib, was so delighted to see the commitment of the gurdwara management to preserve those manuscripts that he announced a grant of Rs 1 lakh to the gurdwara.
Wrapped in beautiful cloth, the gurdwara has two more handwritten Adi Granths and other religious pictorial graphics. Some manuscripts have been written in golden ink. As many as 6,000 words of one of the manuscripts are written in golden ink.
Although the five beloved enjoyed equal status as the Guru's confidants, Bhai Daya Singh had always been regarded as the first among equals. He was Guru Gobind Singh's emissary sent from Dina village in Punjab to deliver the "Zafarnamah" to Aurangzeb.
Another important letter preserved here is of Bhai Chanda Singh. It is written in Persian script and urges the Sikhs to join the kar sewa of Takht Hazur Sahib, which was started by Maharaja Ranjit Singh.
However, letters on some of the ancient manuscripts have become discoloured.