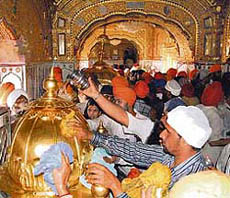 Over one lakh devotees washed the Hazur Sahib gurdwara and other buildings, on the eve of Diwali, on Monday.
It was a rare sight and a rare feeling when over 1 lakh devotees thronged the banks of the Godavri to bring holy water to wash the Takht Hazur Sahib shrine and "shastars"( weapons of the Guru's period) here today.
This is the only Takht where "ishnan" (holy bath) of the main shrine, including "angeetha" of Guru Gobind Singh and traditional weapons, takes place on the eve of Diwali.The devotees started gathering since morning, carrying "gaagars" (holy utensils) though the official time was 10 a.m. Hardyal Singh was the first to fill his silver utensil after ardas.Never before has the holy city witnessed such a mega event.
The city is overflowing with devotees who have come for the celebrations of Gurta Gaddi of Guru Granth Sahib despite the fact that the Takht management could not make proper arrangements for their stay. Many devotees were seen playing "narsinga" (war trumpet) and "naubat" (traditional music) in front of Takht Hazur Sahib when the holy bath was taking place. The washing of the shrine first with tonnes of milk with the help of fire brigade tenders and then with the holy water was a spectacular sight.
After the Godavri, water from two sources on the premises of the Takht was also poured on the building. The devotees then cleaned the entire building, by removing silver doors of the sanctum sanctorum. They also washed the top golden domes.
A large number of saints who have come from the US, the UK, Germany, Canada and various parts of the country also converged on the banks of the Godavri. The Maharashtra government and the management of Takht Hazur Sahib had made special security arrangements and divers of the Army were also deployed.
Among those present included Bhai Mohinder Singh of the Nishkam Sewa Jatha, Mahant Kahan Singh, chief of the Sewa Panthi, Gonyana, Baba Sewa Singh, Khadoor Sahib, Baba Kashmir Singh Bhooriwale, Baba Balwinder Singh Langarwale, Bibi Inderjit Kaur Khalsa, Bhai Satpal Singh and a number of American Sikhs belonging to the Sikh Dharma International and the Guru Ram Das Sikh Mission, New Mexico and America.