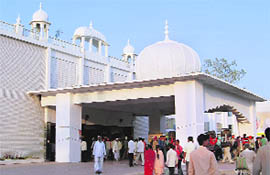 A view of Nanded railway station.
Sikh architecture, which is characterised by values of progressiveness, exquisite intricacy, austere beauty and logical flowing lines, dominates t of the recently constructed buildings raised as part of the beautification plan of the Takht Hazur Sahib Management Committee to mark the tercentenary celebrations of Gurta Gaddi Diwas of Guru Granth Sahib.
It may be the state government's hospital building, a panorama on Sikhism or the railway station, golden domes greet devotees thronging this holy city. Earlier, government buildings were given this touch at the White City of Anandpur Sahib to mark the tercentenary celebrations of the birth of the Khalsa Panth in 1999.
Nanded is the second largest district of Maharashtra after Aurangabad.
Although Sikh architecture had been developed within Sikhism, its style is used in many non-religious building as well. Three hundred years ago, the architecture was known by its many curves and straight lines.
Though there is no official word about the naming of Hazur Sahib's airport, "Guru Gobind Singh Airport" has been written at its main entrance. The flights started by Indian Airlines from Amritsar to Nanded via Delhi have not been economically viable.