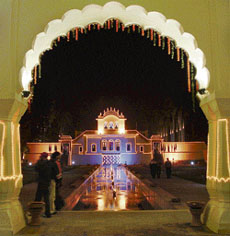 Rare documents depicting about 150-year old history of the region can be viewed at the 3-day Pinjore Heritage Festival which began at Yadvendra Gardens at Pinjore, near here today.
Stating this here today, Haryana Archives Department Deputy Director Rajwanti Mann said the oldest document displayed in the exhibition dated back to 1852 regarding a survey conducted about the irrigation system of that time.
Another document of the year 1854 showed that the Deputy Commissioner, Ambala had constructed a road between Chandigarh and Mansa Devi Temple.
A list of jewels of last Mughal Emperor Bahadur Shah Jaffar had also been displayed.
A letter issued by the Deputy Commissioner, Ambala asking Commanding Officer to issue order that natives should salute all Europeans in Ambala Cantonment was also exhibited.
Another circular of 1858 displayed in the exhibition read that no temple or que would be built within the enclosure of Court Houses.
Among the exhibits there was a map showing the position of the tehsil and village schools in Ambala district and plan of Thanesar Solar Eclipse Fair.
The fact that lightening had caused damage to Qutub Minar on March 24, 1867 could also be seen in the exhibition. Another document of 1873 showed that the Deputy Commissioner, Ambala had submitted a scheme for the improvement of Ambala City.
Ms Mann said an important document of 1942 bore the names of those to whom the British Government had termed as "Dangerous Political Agitators". This list contains the name of Ch Ranbir Singh, the only surviving member of Constituent Assembly, who is also father of the Haryana Chief Minister, Mr Bhupinder Singh Hooda.
The exhibition would remain open till October five.