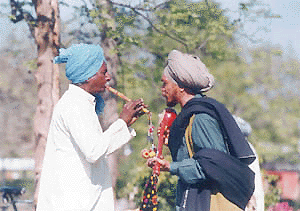 A group of NRIs led by Shivdev Singh Sidhu on Saturday met SAD general secretary Prem Singh Chandumajra sought his help for promoting traditional music.
Sidhu and other NRIs has formed Punjab Heritage Foundation USA fro promoting traditional folk music and dance of Punjab. They urged Chandumajra, who was also syndicate member of Punjabi University, University should come forward to support traditional music and dance.
While talking to PIONEER Sidhu said Bollywood has been distorting originality of our Gidha and Bhangra by inserting vulgarity in it. The time-honored musical instruments' sounds are being copied and synthesized into cacophony.
Sidhu further said that the studios have flooded Punjab with cassettes of "folk music', replacing the strains of authentic folk instruments with the renditions of the octopads and synthesizers. Actual folk musical instruments and their exponents are vanishing. Along with this, promotion and marketing are doing their bit of damage.
Sidhu Who is doctor by profession said that he now dedicated his life to teach NRIs children their mother tongue Gurumukhi Script and what were the traditions of our Punjabi families including folk art and music in "Know Your roots" programme of the foundation.
Gursharanpal Singh Nat, who has accompanied with Sidhu, said that while the true propagators of the folk forms languish in the villages, the patrons are lavishing adulation on those who are obviously borrowing and blending a concoction of the folk and the modern conceptualizations of what is being served as "Punjabi music". The hype and commercialization of the music market may be inevitable but it is certainly distasteful.
Inderbir Singh, Bakshish Singh and Balbir Kaur all NRIs have accompanied them.