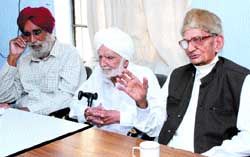 Trustees of Desh Bhagat Yaadgar Hall Committee address a press meet in Jalandhar
Three prominent freedom fighters associated with the Desh Bhagat Yadgar Committee today came together to question why no assurance or reply had been given to their letters, public appeals and peaceful protests held against the "defacement" of Jallianwala Bagh.
Former general secretary of the committee Gandharv Sen Kochhar, president Baba Bhagat Singh Bilga and senior trustee Chain Singh Chain alleged that chairperson of the Jallianwala Bagh Trust Prime Minister Manmohan Singh and Congress president Sonia Gandhi, a trustee, had been indifferent to their campaign.
The participants of the country's freedom movement said they had simply been calling for the preservation of the historical monument in its original spirit rather than disturbing it in the name of maintenance and conversion as a tourist spot.
The freedom fighters even showed photographs that they had recently clicked to drive their point home.
"The walls which had marks of bullets fired by General Dyer as people tried to scale them are being re-done. Instead of one gate, two huge gates are being erected on the north and south sides, again playing havoc with history," they raised the issues hitting at the government for not valuing the sanctity of the garden.
The comrades said Jallianwala Bagh was a great source of inspiration for the youth and a symbol of fight put up by the Indians against imperialism. They said they felt that the present leaders were bent upon destroying history just to promote neo-colonialism, coming up in the garb of MNCs.