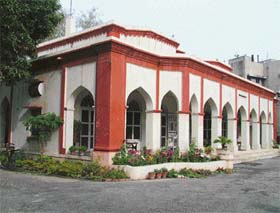 A large number of regular morning and evening walkers who converge on the historic Rambagh Gardens, popularly known as Company Bagh, have raised serious concern over the digging of about 1-km-long patch of the walkway.
The road from Service Club to Baradari Gate, near Gamla Ghar (pot house), was dismantled during conservation and restoration work for the past one year while no attention was being given to repair it.
All-India Social Service Volunteers Force (AISSVF) Welfare Society president Gurnam Singh Gill, in a letter to the tourism secretary and the deputy commissioner said the patch of the road was the main route for people who wanted to take a walk. The morning walkers were facing inconvenience due to digging of the road resulting in clouds of dust.
Society chairman Kultar Singh Chawla said they had discussed the issue with the tourism secretary along with consultant architect Gurmeet Rai and contractor from Delhi Jaspal Singh, who had assured them of completing the work shortly. However, regretting the attitude of the authorities concerned, they said no progress had been made in the repair of the road. Chawla said the contractor should first have completed the renovation of heritage buildings in the historical garden and then gone for repairing and digging of the roads.
Deputy commissioner Kahan Singh Pannu said the renovation work was stopped as the contract for the same was to be allotted. As of now the contract had been allotted and the work would start after Divali, he added.