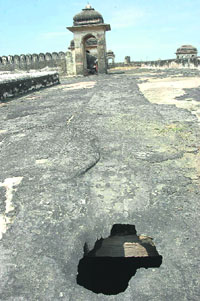 A hole in the roof of Qila Mubarak in Patiala
A 20-feet part of the wall of 250-year-old Quila Mubarak caved in around 5 am today due to two days of continuous rains in the city and surrounding areas. Meanwhile, parts of around six villages got submerged as overflowing Ghaggar waters entered these villages of Patiala district.
A 20-feet long portion of the about three-feet wide wall near Lassi Khana and Ranvaas collapsed early this morning, apparently due to incessant rain.
The wall was part of Quila Mubarak, which is a protected monument. The control of the fort was transferred to the Department of Culture way back in 1966-67. Sources said the repair of the wall was done sometime back, but what led to its collapse in such a short period after repairs was yet to be ascertained. There was no report of any loss of human life on account of the wall collapse as there was no one around the fort in the early hours.
On the other hand, Ghaggar waters entered fields of a couple of villages, including Bhathunia Khurd, Kauni Khurd, Sarala, Lachru, Raipur, and Manheri, as the river overflowed this morning due to continuous rain, particularly in the catchment areas. No loss of life was reported even as crops suffered damage as they got submerged in water, the level of which was more than a feet at certain places. The overflowing Ghaggar for the first time this season has instilled fear psychosis among residents of villages along the Ghaggar in Patiala district.