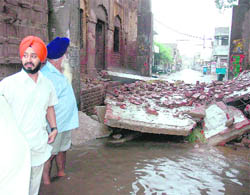 Heavy rain damaged part of the historical Sunami gate in Patiala
In what could prove to be a big jolt for heritage lovers, a part of historic and ill-preserved Sunami gate caved in this afternoon in the wake of incessant showers lashing Patiala and surrounding areas for the past two days.
Interestingly, a section of top municipal corporation functionaries had vehemently been pushing for demolition of this historic monument and had even managed to get a resolution passed by the MC general house on June 11 for demolition of the gate.
The move was said to have been backed by the Patiala Mayor Ajit Pal Singh Kohli, who had been supporting the proposed demolition of the gate openly despite opposition by certain quarters, particularly the heritage lovers.
The 'gate demolition' move had fallen flat following its outright rejection by the Punjab government in the first week of July.
Interestingly, the state government and the Patiala district administration had widely been publicising their intention to "conserve Patiala heritage buildings" in the month of June. But, nothing was allegedly done to repair or conserve the Sunami Gate, which was one of the 10 famous Patiala gates. As a result, a sizeable part of the roof of the Sunami gate caved in this afternoon, apparently due to heavy rains. Fortunately, nobody was injured in the incident as there was alt no traffic on the road. A team of MC officials reached the spot and removed the debris from the site.
"The MC should have done something within time to preserve the gate so that it could be saved. Nothing is lost even now and they can still contribute to preservation of the gates, which are signposts of the rich Patiala culture and heritage," said Sumrinder Singh, a resident.