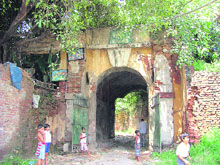 Constructed some 500 years ago during the Mughal era, Lodhi Fort is crying for attention. The rich archaeological sight, which should have been preserved, is now in oblivion. Though the authorities had planned to develop a hanging garden in 3.5 acres around the Lodhi Fort, but it could not materialise due to reasons best known to those at the helm of affairs. Now, only wild grass stands in the fort complex.
Moreover, the fort has now become a safe haven for the anti-social elements. Youngsters smoking in this unoccupied fort are a common sight. Bishir Ahmed, who runs a shop near the fort for the past 30 years, rues that the fort, having great historical importance, is now in a shambles.
"My father used to tell me that a tunnel runs through the Lodhi Fort that ends at Phillaur Fort. Such tunnels use to prove helpful during wars. Some years back, devotees used to perform prayers in the fort on Thursday, but with passage of time, this custom has discontinued and nobody visits the abandoned fort," he added.
He alleged that the administration has done nothing to preserve the fort and it is crumbling with the passage of time. One of the cannons placed on the four walls of the fort has collapsed during the recent rains, he said.
"The architectural engravings on main door could have been a delight for any art lover, but the government failed to preserve it. I was always fascinated by the old building, but a visit to the fort depicted official apathy," rued Gurdish, a student of the SDP College, Daresi.