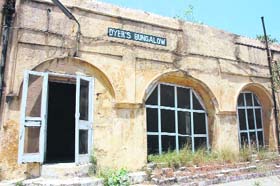 The bungalow of Gen O'Dyre at historic Gobindgarh Fort in Amritsar.
After overcoming numerous glitches for handing over the historic Gobindgarh Fort, presently under the Army occupation, the district administration after prolonged negotiations has managed to give a go ahead for the restoration work of the fort from tomorrow.
After the restoration and conservation work, the fort would be handed over to the civil administration on October 2 to mark the Gandhi Jayanti. It may be recalled that on December 20, 2006, Prime Minister Dr Manmohan Singh had handed over the key of the historic fort to the then Chief Minister, Capt Amarinder Singh.
DC Kahan Singh Pannu has been able to clear many webs after sorting out the nitty-gritty with senior army officers stationed in the fort garrison.
Talking to The Tribune, Pannu said the administration and the Army authorities had worked out a solution, wherein, the Army establishments in the fort would be properly segregated to give safety to their unit and also provide suitable camouflage by raising a wall with a cost of Rs 2.50 crore. A special road has also been constructed to provide a separate entry to the Army establishments.
He said the Ministry of Culture and Tourism had already earmarked restoration fund of Rs 2.50 crore that had been lying with the administration and would be used for proper facelifting and conservation of this historic monument, which one housed the residence of the tyrannical British army general, O'Dyre, responsible for the Jallianwala Bagh massacre.
He said the central government had agreed in principle to handover the historic monument as a place of tourist attraction to the Punjab government and also to release sufficient funds for its proper restoration and revamping.
The fort also houses the infamous 'fansi ghar' where General O'Dyre used to see the hangings of Indian freedom fighters who were arrested for raising their voice for the country's freedom. The fort occupies a unique place in the Indian military history. Built in 1760, it was called Bhangian da Kila (Bhangis was one of the 12 Sikh misles).
According to historians, in 1808 the fort was known as the fort of Gujjar Singh Bhangi. Later, Maharaja Ranjit Singh rebuilt it with the help of Jodh Singh. The legendary Maharaja fortified the fort in order to keep his treasures and treaties safely.
The majestic entrance has been named Nalwa Gate, after the great Sikh warrior. The other end of the gate is known as Keelar Gate and it is rumoured that in its proximity existed an escape tunnel, connecting to a tunnel in Lahore. However, the Army authorities said they had not been able to locate any such tunnel so far.
The British Army had added Darbar Hall, Hawa Mehal and 'phansi ghar' to the fort after the annexation of Punjab.