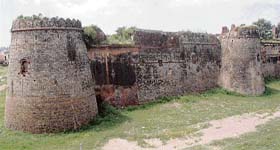 Ancient architecture that has been a witness to history, old Nanakshahi bricks that have stuck together through thick and thin, inner walls that were painted once.
One look at the structure and you travel through time to what may have happened, who may have lived there, what glories or dooms may have taken place in this ancient king's abode.
Zoom out… and witness the larger and real picture of the Manimajra Fort. Its historic glory lies in a shambles. The Manimajra Fort or the quila, as the locals call it, is located near Fun Republic.
Walk through a stuffy lane and you reach the huge structure. Occasionally, the iron door sports a huge lock. But not to worry because the 'real' entry is around the corner, literally!
Climb the iron ladder and you reach the ground of the fort. But before you may revel in the thoughts of being in the company of royalty, reality brings you back to ground. The current residents of the fort politely refuse any questions and enquiries. Why? They have had enough of it. But the guys don't mind you strolling around. "Can I take some pictures?" I ask Gurdev Singh, one of the residents and seven trustees of the fort. "Of course!" he smiles, "but you cannot come inside."
There are a handful of people who enjoy going to the sight, whether it is to get a feel of the 'old world' or to capture it in their cameras. "I have been to the fort at least twice with my family during our visit to Chandigarh. It is an amazing feeling to reckon with the past," beams Ashwinder Kaur from Ludhiana."
Even renowned filmmaker Deepa Mehta was attracted to this ancient structure. A song and dance sequence from her forthcoming film, Heaven on Earth has been shot at the fort.
Spread over about four acres, the fort is at least 350-years-old. Ask the locals its history and you will get blank looks. And the few answers you do get don't match. Some versions place the building of the fort in 1932 and some in late nineteen thirties.
Presently, the Chandigarh Municipal Corporation is planning to beautify the green area adjacent to the fort and spruce up the entry points. A tourism cafe may also be built.