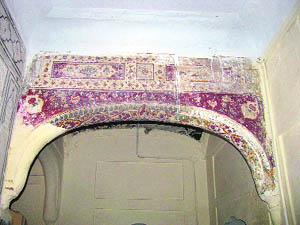 Whitewashed frescos at Gurdwara Dera Sahib, Lahore, in Pakistan.
The Pakistan Evacuee Property Trust Board, which controls the religious shrines in Pakistan, including gurdwaras, has whitewashed frescos at historical Gurdwara Dera Sahib, Lahore, in utter disregard to the Sikh heritage.
This vandalisation act has been despite tall claims of the Pakistan Sikh Gurdwara Parbandhak Committee (PSGPC) and the board about the preservation of the Sikh heritage. A senior teacher of Guru Nanak Dev University, Balvinder Singh, took the pictures of the destruction of Sikh heritage during his recent visit to Pakistan. He said while a portion of the old frescos had been whitewashed, coloured glasses had replaced the fresh ones on the other side of the gurdwara. Gurdwara Dera Sahib is situated opposite Lahore Fort near Badshahi que. This is the place where fifth Sikh master Guru Arjan Dev was tortured to death in the Ravi on May 30, 1606 AD.
At the site where the Guru attained martyrdom, a Thara (platform) Sahib was built by Guru Hargobind in Samvat 1619 when he came to Lahore on a visit to religious places. Later, Maharaja Ranjit Singh got the building of the gurdwara constructed.
It was Balvinder Singh who first raised the issue of fast vanishing frescos (Mohrakashi) at Gurdwara Dera Sahib about three years ago. However, the Pakistan authorities did not consult the conservationists or heritage experts before taking up the renovation work at the gurdwara.
A similar damage to Sikh heritage had been done at Indian gurdwaras during "kar sewa" by babas. Earlier, allegations had been levelled against the Pakistan authorities for using national green colour on certain Sikh shrines.