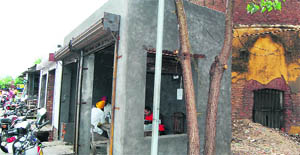 Concrete shops have come up in the vicinity of the national monument at Ajnala where more than 300 mutineers of the 1857 Revolt were kept.
Shops have come up along with the tehsil complex (old police station) of border town Ajnala, the protected monument where at least 200 mutineers of 1857 Revolt died of asphyxia. The rest of the mutineers were executed at the behest of then deputy commissioner Fredric Cooper. The incident dates back to June 3, 1857.
The huge complex of the Old Tehsil where the mutineers were imprisoned is in a state of desolation. There are encroachments galore though the government has declared it a "protected monument".
While the mutiny, sparked by Mangal Pande, has become integral part of the Indian history, the sacrifices made by army deserters of the Lahore camp have been forgotten. They are hardly remembered by anyone, what to talk of a suitable memorial for them. The USA-based software engineer Paul Joseph who is writing a book on Revolt of 1857 said it was shocking that the state government had failed to preserve the monument.
It is said about 300 jawans had revolted in the Gaddar of 1857, which started in Uttar Pradesh. The 300 mutineers, who had fled from Lahore after revolting, reached Fatehwal and then Lakhowal, travelling along the banks of the Ravi. They were kept in Purani tehsil by the then tehsildar.
However, this order, issued under the seal of the deputy commissioner, is being violated with impunity. A large number of kiosks dot the boundary wall of the "protected monument". Garbage can be seen strewn inside and outside the heritage building. What is worse, the BSNL has installed its tower in the tehsil complex, posing a threat to the monument. The overhead wires of the BSNL make the front of the building ugly. Though the telephone building has been shifted to the new adjoining building, no step has been taken to remove the tower. The keys of the old tehsil are said to be with officials of the BSNL.
Old-time residents said the monument had been the office-cum-residence of the tehsildar and the treasury officer even after Independence and it had been in a good condition till late '80s.
Residents of the town claim a few years back a local person found some skeletons from the site of the historical well while digging near the place. It is said after that the administration banned digging in the area. There has been a demand for proper excavation to dig out the skeletons of the mutineers so that their cremation is done as per rituals.
No efforts were ever made to know the names of these "freedom fighters" by the state or any social organisation.