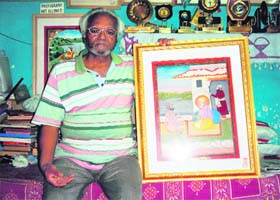 O.P. Tak with painting of Guru Ramdass at his studio in Dharamsala.
For the first time, various stages of the life of the 10 Sikh Gurus has been depicted in Kangra style of paintings. Om Prakash Tak, the only artist preserving the traditional art, has created miniature paintings of the Gurus.
Tak said he had spent about 30 years researching the Sikh Gurus. "Since it was a sensitive matter associated with feeling of the Sikh masses, I wanted to be very sure about every aspect of the creations. For that I visited many places associated with the life of the Gurus and read Punjabi literature. The environment created in the paintings is similar to the one that existed during the time of the Gurus," he said.
Tak added that he has used 19 natural colours, typically associated with Kangra form of art, to create the paintings. "They are created from stones and plants found in Kangra valley. It takes about a year to create the required colours as they can be generated only from natural sources existing at particular time of the year. Besides the natural colours, gold has also been used. It gives the required shine to the paintings." Another unique feature of this art is the use of natural poison, which protects the painting from decay, and natural paper created from the bio-waste of pine trees.
When asked on how he got the idea of depicting Sikh Gurus, he said the history of Sikhs is closely associated with the merged areas of Himachal, including Kangra and Una. "Since no work was done in Kangra art on Sikh Gurus earlier, I took up the onus. I also met the SGPC officials who encouraged me to carry on with the work. I hope my creations would now be accepted by the masses."
Tak is a lone crusader who is preserving the Kangra form of art. He has many awards to his credit, including the National Tulsi Award for lifetime achievement. Tak said he was working on creating painting on Banda Bahadur and other Sikh martyrs.