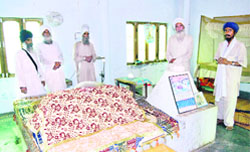 A monument lost, courtesy ignorance, apathy On a well in which 300 bodies of Indian sepoys were thrown in 1857 now stands a house
The historical well in which nearly 300 sepoys of 1857's First War of Independence were thrown after execution today exists no more, thanks to a caretaker who has constructed a room over it. He has filled the "Kalliwanwala Khuh" with earth .
US-based software engineer Paul Joseph, who is writing a book on the "mutiny" of 1857, was extremely disappointed to see the neglect shown to the monument by the state government. Joseph had come all the way from America to click the pictures of the monument.
The caretaker, Mohinder Singh, has placed a copy of the Guru Granth Sahib in the room, constructed by filling the historical well. Talking to The Tribune, Mohinder Singh said his father had migrated to Ajnala after the Partition and a retired army officer, Col Harbans Singh, had told his father to preserve it because the well belonged to martyrs. However, the advice seems to have fallen on deaf ears.
The border town of Ajnala has played a stellar role in the liberation of the country from British clutches. However, the apathetic government seems to have forgotten the supreme sacrifice made by army jawans in 1857.
When Mangal Pande blew the trumpet of rebellion against the British in 1857, its echoes were felt in this border district, too. A platoon of more than 300 soldier stationed at Lahore rebelled against the British government by leaving their barracks.
History reveals that soldiers bravely crossed the nearby flooded Ravi and reached the adjoining Ajnala town. However, acting on a tip-off, Fredric Cooper, the then deputy commissioner of Amritsar, ordered that all of them be put in a cage-like room of the Old Tehsil (Ajnala) where alt 200 soldiers died of asphyxiation. The rest of them were brutally shot the next morning and their bodies thrown into the Kalliwanwala Khuh.
The book "From The Crisis in the Punjab from the 10th of May until the Fall of Delhi", authored by Fredric Cooper, has mentioned startling facts about the sepoys who were executed by the British soldiers. The book says Cooper received a number of missives from the then Chief Commissioner for Punjab Sir John Lawrence like: "I congratulate you on your success. I trust the fate of these sepoys will operate as a warning to others".
The then judicial commissioner of Punjab, Robert Montgomery, wrote "it will be a feather in your cap as long as you live".