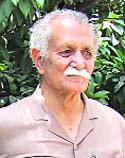 Narrating the sequence of events regarding fire in the Sikh Reference Library and Museum in the precincts of the Golden Temple during Operation Bluestar in June 1984, the then GOC of Amritsar, Major-Gen J. S. Jamwal said since the initial attack had not brought any success and the Army suffered heavy casualties, the Army decided to use heavy artillery to break the walls (of the library).
In this firing, the artillery shell pierced the walls near the library to create a hole which led to fire in the library and some of the precious manuscripts were burnt. He said it was totally unintentional as the Army was not aware of the library at the entrance of the complex. He, however, said the Army had clear instructions not fire any bullet on the Golden Temple.
He said the Army under his charge retrieved some of the books and manuscripts which were given to the SGPC authorities after the Temple complex was handed over to the management.
On the Army's failure to save its troops during the initial attack on the Temple he said this was due to the lack of planning by the then Army commander, Western Command, Gen K. Sundarji who was known for his flamboyance, but lacked military mind to execute a properly planned operation. He said General Sundarji had botched up a number of operations under his charge and had brought disastrous results. He also cited the example of an Indian Peace Keeping Force (IPKF) operation in Sri Lanka which resulted in a bloody nose to the Indian Army.
He said General Sundarji had literally brought India to the brink of war with Pakistan during Brasstrack exercises on the western front. Another example, General Jamwal said, was General Sundarji's planning to overawe the Chinese on the northern frontier when he decided to take over certain Chinese posts. Later, he realised his folly and decided to pull back much to the embarrassment of the government.
General Jamwal said Indira Gandhi, then Prime Minister, used to get direct feedback from General Sundarji who was unable to provide her ground realities that left a permanent scar on the psyche of a particular community. He said General Sundarji had a good command of English, but lacked professional skills. It was unfortunate that General Sundarji died a miserable death.
In another revelation, General Jamwal said Major-Gen K.S.Brar, who was called 'Bulbul Brar' by his colleagues, got puzzled following the heavy casualties of Army commandos on the first day of Operation Bluestar.