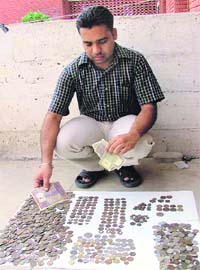 Hira Singh with his collection of coins.
In a classic case of hobby turned into a passion, Hira Singh, a student of PAU, carrying on his doctoral research in vegetable science, has piled up a collection of over 2,000 coins from 50 countries across the globe in his kitty.
He has some very precious coins belonging to the Ranjit Singh era and the British Raj. Interestingly, his collection has coins, which are not identifiable to any period in history, at least, not to him. He is looking out for experts to guide him.
Singh, belonging to a sleepy village called Bhopal in Mansa district does not know when the legacy from his grandmother took the shape of a passion. "These coins are my prized possession as they have been gifted by my grandmother. I was only 10 years old when my grandmother, Bhagwan Kaur, gifted her collection to me before she died in 1996," he said.
Though, she had nothing to do with numismatics but the fetish for varied coins grew on her and she started collecting antique coins. Hira Singh, currently, is heavily short on space to store his increasing collection at his room in Hostel Number VII.
This obsession of collecting the ancient coins led him undertake journeys for finding people, all around, who could help him, with coins. He said, "Be it foreigners or locals, living at distant villages, across the country, I met every one, I could, during my unending pursuit of coin collection."
Narrating one such incident he said, "One farmer in a village in Haryana told my veterinary doctor friend that he has a collection of old coins. My friends called me and I immediately set off for my journey. I cracked a deal with him."
Showing his collection, he said , "I have got ancient Taka, coins of Bahawalpur state (1940), coin contemporary to Madhav Rao shinde dated 1860 and many more coins of foreign countries." He further said, "I have many coins the writing of which I can not discern. I need some expert, who can actually tell me how old these coins are?"
Singh also showed one-rupee coins of year starting from 1850 till 2007. "I am trying to find coins of around ten years that I have missed in the series."
Singh is a contributor to Punjabi dailies and has become a source of inspiration for many students of his village, where the literacy rate is the lowest in the state.