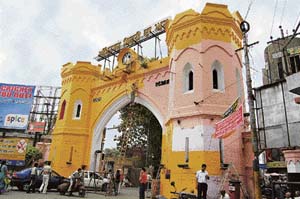 The historical Hall Gate, which is being painted yellow. The change of colour from red to pink and now yellow has come as a shock for heritage lovers.
Chief Minister Parkash Singh Badal and his Cabinet colleagues, who camped here for more than a fortnight for electioneering, failed to notice vandalism of the walled city's heritage.
The Amritsar chapter of the Indian National Trust for Art and Culture (INTACH) has documented about 300 buildings in the walled city, t of which are facing a slow death due to the indifferent attitude of the authorities concerned. The inventory of historical buildings, prepared by INTACH, points to the indifferent attitude of all concerned.
The 250-year-old SGPC-managed Lohgarh gurdwara fort, built by sixth Sikh Master, Guru Hargobind, to secure the place from foreign attackers, was re-built with concrete due to the indiscriminate repair done in 1997 through kar sewa. Its original design, however, was retained. The repair, carried out in 1995 with modern material, has also given a new look to the 350-year-old Gurdwara Guru Ka Mahal, the birthplace of Guru Arjan Dev. None cared to preserve the beautiful frescos of an ancient Shivala near Ghee Mandi.
Successive governments and the district administration have to own up the blame for demolishing heritage sites spread over four centuries in the city.
Maharaja Ranjit Singh took a keen interest to develop and beautify Amritsar during his rule. He followed the Mughals in laying gardens and constructing buildings, including forts, t of which now on the brink of ruin. He got Sri Harmandar Sahib gold-plated following which it got the name Golden Temple. At this time the Sikh school of art also got patronage.
PPCC president Rajinder Kaur Bhattal said instead of 'wasting time' to woo voters, the Chief Minister should have utilised the time to identify the heritage buildings for preservation.
Another temple of Maharaja Ranjit Singh's period Shivala Noormahalian Da, having domes with floral patterns, is in private hands.
Some of the ques in the walled are alsonot in good condition due to lack of maintenance. Buildings like Chitta Akhara, where frescos are still in a better condition, need to be conserved.
The old heritage haveli having frescos depicting Maharaja Ranjit Singh, along with his courtiers, holding a durbar, unique floral designs and patterns, different floor patterns, tiles and beautifully-carved wooden doors and windows has also been lost. Its walls had a wall painting, which was whitewashed indiscriminately. The haveli also had elegant Japanese tiles. The Mohrakashi technique of frescos, stained glasses, carved wooden windows, floor patterns, all show that the building was part of the heritage of the British era.