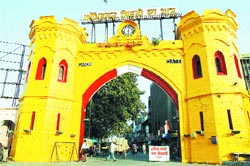 MC men will soon paint the historical gate red, which was the original colour of the structure.
Following strong criticism, the local municipal corporation today decided in principle to restore the original colour of Hall Gate to red. The colour of Hall Gate was changed from pink to yellow that received a lot of flak from the heritage lovers.
This was disclosed by Shavet Malik, Mayor, while talking to The Tribune here today.
The original colour of Hall Gate was red, which was changed to pink during the stint of K.S. Kang as commissioner of the corporation.
The corporation had also started painting other heritage buildings, including the boundary wall of the summer palace of Maharaja Ranjit Singh, but now the work has been stopped.
The secretary of the Panchrang, Mala Chawla, and other artists from the city held an emergency meeting to oppose the changing of the colour of Hall Gate. The Panchrang artists said if the officials of the corporation had love for yellow colour then they should first paint their own houses yellow.
Eyebrows were raised over the sudden changing of the colour of the historical Hall Bazaar Gate from pink to yellow – the favourite colour of the Shiromani Akali Dal – on the eve of the Amritsar byelection.
When the SAD- BJP combine had come to power in 1995 the colour of the roadways buses were changed to yellow and that had received flak from the common man at that time.
However, the successive state governments, including the Badal government that had promised to give governance on the pattern of "Maharaja Ranjit Singh's rule," and the SGPC failed to preserve the invaluable art of the Maharaja's time. Amritsar looked like a fortified city in the days of Maharaja Ranjit Singh. The fortification consisted of an immense rampart of earth and a wide ditch, apart from 12 gates to save the town from foreign invasion.
While t of the gates have been demolished, there is no trace of the ditch. Unmindful of their heritage value, t of the gates were pulled down in the past. After the death of Maharaja Ranjit Singh, many old buildings were replaced by "modern monuments" constructed by the British.
See earlier story: Colour changing of historical gate triggers protest